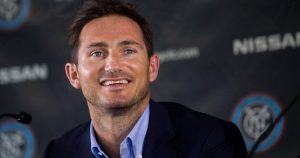 The Manager of Chelsea, Frank Lampard, has blamed Emerson Palmieri for their 2-2 draw with Arsenal on Tuesday night.
The Blues manager refused to blame N'Golo Kante for slip during the strike that led to the equaliser at the Stamford Bridge.
Arsenal striker, Gabriel Martinelli had taken advantage of Kante's slip to race through on goal and scored for the Gunners.
Martinelli scored for the Mikel Arteta's men after Jorginho had scored from the penalty spot.
The game ended with goals from Cesar Azpilicueta and Hector Bellerin in the second half with both teams getting a point each at Stamford Bridge.
"It was on the edge of the box that was the problem," Lampard said as quoted by Metro UK after the match.
"People have got to do their jobs. We have people on the edge of the box that ran forward when they should have run backwards."
"It left N'Golo, it went to N'Golo and he slips. That wasn't the error. That's something that can happen."
"The edge of the box was the error, as I say, a job that should have been done but not done."
He further stated: "Frustrated because you want to win. We got a goal, they went down to 10 men and we have to do better to score another goal.
"Then we didn't defend and gifted them two goals. That's people not doing their jobs which they should know. Moments like that lose you points at this level."