Many families in four local government areas of Jigawa state has been rendered homeless after an after a heavy downpour on Thursday.
The flooding which affected Miga, Guri, Hadejia and Kaugama LGAs, followed a downpour on Thursday which caused the Hadejiya Jam'are River to overflow.Many families who were, thereafter, forced out of their homes, are now taking refuge in schools.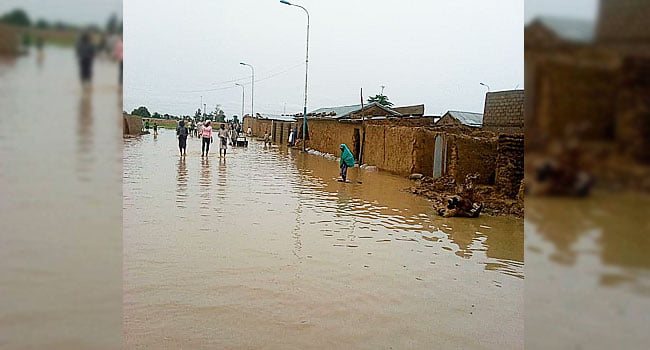 "The water has destroyed all my belongings including our food items, now we have nowhere to stay except this school. I had to carry two of my children on my head and walked for over an hour in the water before we could get out." a resident of Guri Local Government, Malam Salihu Inuwa revealed.
The state Deputy Governor, Alhaji Umar Namadi who visited the area on Friday said the government is doing its best to bring emergency assistance to the victims.
Meanwhile, in a similar report, Three persons have died after some communities in Minna, the Niger State capital, were hit by a flood.
The rain which began at about 4 am on Saturday morning has destroyed and submerged buildings and farms in the affected areas leaving 500 people displaced.
The people were caught unawares by the flood as most of them claimed they were not aware the area was flooding when the rain was falling. The flood was said to have been caused by the overflowing of the drainage systems in the affected areas which caused the collapsing the MYPA bridge in Bosso and washed away the Mola bridge in Dusten Kura Hausa.
One of the affected residents, Sanusi Mohammed who spoke on behalf of the Dusten Kura victims confirmed that three people were carried away by the flood saying that a lot of them have lost their valuables to the flood.